Kit Preview : 1/76 Milicast Horch Kfz15 Staff Car
---
About the manufacturer
Milicast is the premier resin model manufacturer in 1/76. Their range is wide, the level of detail is showcase model-level as opposed to wargame model. Their kits are all resin and include a lot of small parts. The quality and level of detail have also vastly improved in the last few years with models having full interiors and sometimes detailed engines. Their latest guns, which I have only seen on the web site also seem to bring the hobby to a new level.
On the minus side, I do question the use of resin for everything as it is more difficult to straighten or unwarp than white metal. Resin parts can be corrected in a hot water bath, but not always perfectly, and the slightest bend in a gun is very conspicuous on a tank!

---
About the vehicle
The Kfz15 is a prewar German specification for medium passenger cars. Horch is one of the manufacturers of that class of vehicles, along with Opel. The Horch car was used extensively in the early part of the war. It will be in gray in Europe and Russia through 1942, desert yellow in North Africa, and maybe a few will have been repainted in dark yellow after 1943. Rommel used one, garanteeing its popularity with modelers. Its successor, the Horch 40 is essentially the same car with a wider body that goes outside the spare tires instead of inside.
Vehicle dimensions:

length : 4.74m
width: 1.85m
height: 2.05m
wheelbase: 3.1m
engine: Horch V8, 80hp or Opel 6cyl, 68hp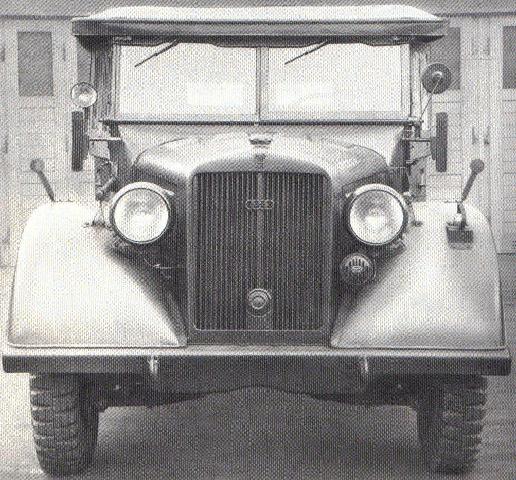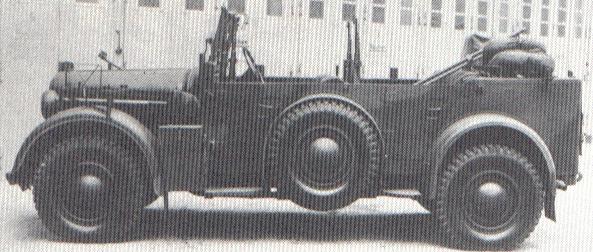 ---
About the kit
This is an all resin kit with lots of parts. There is a fair amount of cleaing up to do. Take care when cutting parts off the sprue, resin is very brittle!
It is also toxic so people are advised to wear a painter's mask when sandin resin. The dust will clog up your lungs, so I am told, so the hobby will eventually kill more than just time.
---
Kit instructions. Uses pics of the real vehicle for part placement. I recommend getting your own pics, to be on the safe side, as the photocopy is poor quality.
---
Front view

---
Side view. Lots of bubbles to fill on the underside. A quick dimension check shows that the wheelbase is short by a little under 1mm.
---
Rear view.
---
Closeup of the dash and interior. Nice detail marred by a couple of bubbles.
---
Closed top, for use with side curtains. Open top is also possible.
---
Side curtains, windshield (good luck cutting out the windows without ruining the wipers), doors, hooks, notek, 4 foot steps (one not shown), lever
---
---
Rifle, steering wheel, rifle brackets, shovels, handrails (go behind front seats), 2 mirrors
---
Rear seats, 6 wheels (one not shown), folded top
---
2 front seats
---
Related links: