Kit Preview : 1/76 Scalelink 1937 Ford Estate Car (Woody) (ref. SLC126)
---
About the manufacturer
Scalelink is a large UK online model store. They carry a wide range of military and railroad modeling accessories in many scales. Of special interest are UK OO gauge (1/76) rail accessories and figures. They also have their own line of white metal 1/76 vehicles, mostly prewar British civilian cars and trucks. Scalelink acquired part of SMA's range. Their catalog only shows accessories and decalsa from the time being. Hopefully we'll see SMA kits up soon. The Matador 1/76 range is also available (which includes some very nice ex 4MilMod kits). Shipping to the US is 10GBP up to 50GBP, then jumps to 20GBP.

---
About the vehicle
The kit depicts the UK version of the 1937 Ford Woody (estate car in the UK).

Apart from the right hand drive, I don't see any changes from the US version. See for yourself: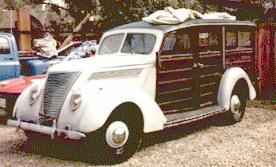 I don't know of any official military use of this vehicle in the UK. Imported American cars were popular in Benelux and Northern Europe and any such cars surviving the 1940 invasion would hand up in German hands.


---
About the kit
This is a very simple kit but in a positive way. The model captures the shape of the original car. There is a noticeable seamline running around the vehicle. One thing that caught my attention is the spare wheel, which is larger and thinner than the others. It could be larger because of the hard cover but thinner? The other wheels are very well done. The particular teardrop shape of the lights is well captured. The grille seems to be mismolded on one side. Some excess metal prevents it from being test fitted, so I will reserve my judgment for the time being.
---


Conversion to LHD is really just a matter of glueing the steering on the other side. There is no dash detail and if you cover the windows with clear plastic, nothing can be seen anyway.
---
Overall a very nice kit of an unusual subject.